Youth Mountain Biking in Oconee County
Our youth mountain bike program is available to students in grades 6-12. The season starts July 1st and ends in late November.
Three TEAMS. ONE big family.
OCMTB is comprised of three youth mountain biking teams, Oconee High, North Oconee High, and Oconee Composite.
Even though we have three teams, we all practice and race together. By having three teams we are able to extend ridership to students outside of the Oconee County school system.
The Oconee High Team includes students who attend:
Oconee Middle School
Oconee High School

The North Oconee High Team includes students who attend:
Malcolm Bridge Middle School
Dove Creek Middle School
North Oconee High School

The Oconee Composite Team includes students who attend:
Schools in neighboring counties that don't have a team
Private school or are homeschooled
HERITAGE PARK IS OUR HOME BASE
Our team practices begin in early July at Heritage Park. Besides offering tons of singletrack for both beginner and expert riders, Heritage has a gravel loop and nearby gravel routes the team rides as part of their training.
Practice Schedule 
Tuesday & Thursdays
6:00 PM – 8:00 PM 
Please note: As the season progresses and we lose daylight, practices start earlier and  end earlier. We notify parents well in advance of these time changes.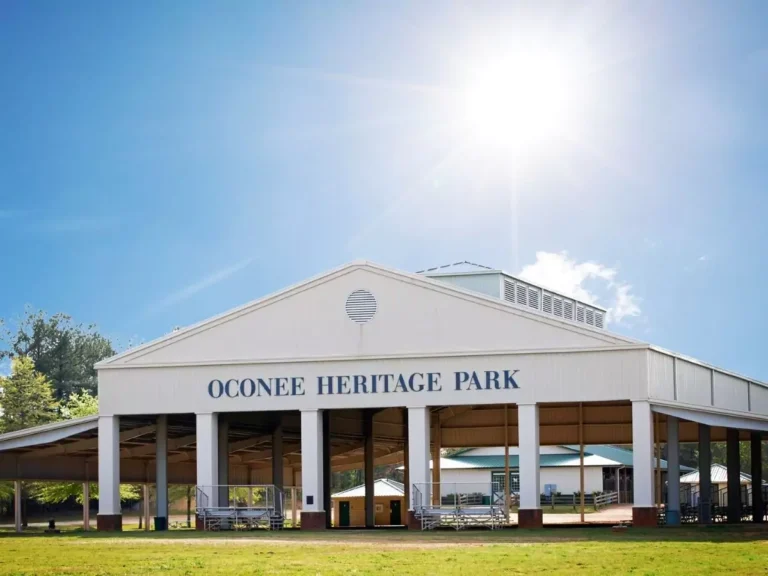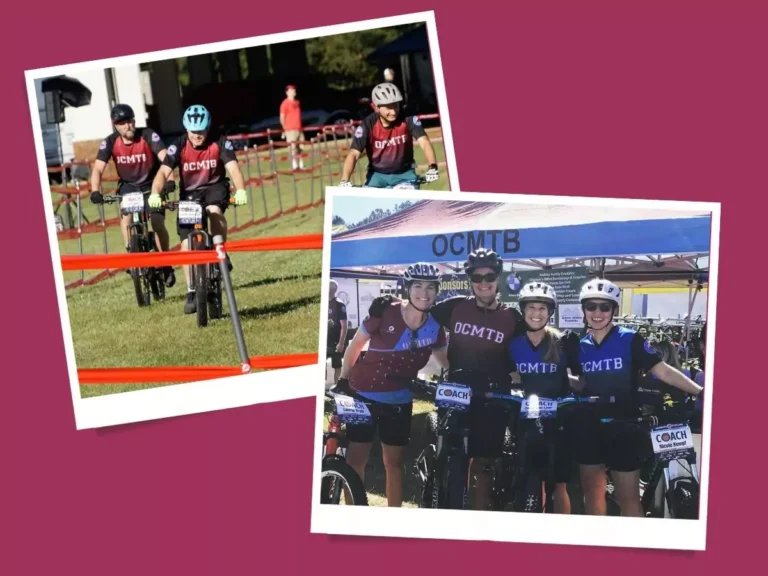 LICENSED COACHES WHO CARE ABOUT MAKING A DIFFERENCE
Our coaches love mountain biking,  but more importantly, they understand the life-changing benefits youth sports and positive role models can have on kids. Most of our coaches are parents with kids on the team, and this is a big part of the family-feel of our program.
Each coach is a volunteer who must become licensed to coach through the Georgia Cycling Association. Licensing includes an annual background check, mandatory coaching and skills training courses, abuse awareness & mandatory reporting training, concussion training and more.
FREQUENTLY ASKED QUESTIONS
HOW MUCH DOES THE PROGRAM COST?
The Georgia Cycling Program is $205 per student-athlete. This covers all practices with OCMTB. To help cover costs our team incurs, such as reserving Heritage Park for practices, we have a team fee of $75. Participation in the Georgia Cycling Race Series presented by Northside Hospital is an additional fee. 
CAN MY STUDENT-ATHLETE TRY OUT A PRACTICE TO SEE IF THEY LIKE IT?
Yes! Parents can fill out Georgia Cycling's One-Time Waiver and bring it to a practice. A student-athlete cannot try out a practice with the team without this waiver. 
DOES THE PROGRAM INCLUDE THE RACE SERIES?
BESIDES A MOUNTAIN BIKE, WHAT EQUIPMENT IS REQUIRED?
Besides having a properly functioning mountain bike that can withstand the rigors of riding singletrack, riders need to:
Have a bike helmet that fits 
Have a way to carry water with them--AT ALL TIMES--during practices. This can be a water bottle and cage attached to their bike or through a hydration pack. 
ARE THEIR INDUSTRY DISCOUNTS AVAILABLE?
Yes! Some of mountain biking's biggest brands have partnered with Georgia Cycling to offer discounts to student-athletes and coaches. You can learn more about these benefits here.  
IS THERE FINANCIAL ASSISTANCE AVAILABLE?
Yes! The Georgia Cycling Association offers a needs-based Financial Assistance program that can help offset the cost of registering for the Georgia Cycling program. Learn more about the Financial Assistance program here.
WHEN DOES THE SEASON START?
The season officially starts on July 1st. This is when our team can begin practices. Our team typically begins holding orientation sessions for new and existing riders in May. Parents and new riders will have plenty of time to learn about the team and register prior to season's official start.  
WHAT IS THE PRACTICE SCHEDULE?
During the season, we practice at Oconee County's Heritage Park on Tuesday and Thursdays from 6:00 PM to 8:00 PM. As the season moves into the fall months and we lose daylight, practices will begin and finish earlier. Parents and riders will be notified of time changes well in advance.  
WHAT IF THE WEATHER IS LOOKING IFFY?
Mountain biking is an outdoor sport. Sometimes, the weather just  won't cooperate. When practice or racing will be delayed or cancelled, our coaches will update parents via GroupMe and text. We do our best to provide these updates in advance (but if you're familiar with the unpredictable weather systems in Georgia, you'll know this isn't always easy). Racing delays or rescheduling due to weather is determined by Georgia Cycling. 
Ready to Get Started with OCMTB?